Our Company
REGENCY ALLIANCE INSURANCE PLC is one of the leading Insurance companies in Nigeria and the West African sub-region.
With over 20years experience in the Nigerian insurance space, we remain unrivaled in the General Insurance business market. We provide only the best insurance service, cultivated from our deep underwriting expertise, superior claims handling and market experience. We offer a selection of customized Insurance products in collaboration with our Intermediaries and Technical Partners all over the world.
We hitherto were Regency Insurance Plc, however following the merger and consolidation of four insurance companies in February 2007; Regency Alliance Insurance Plc was born.
Drawing from technical expertise and knowledge of both local and international markets acquired in the past two decades, we are constantly innovating to provide even better service to our customers.
Our clientele is growing progressively, and our business portfolio is expanding leading to the formation of subsidiaries. We are expanding our operations in West Africa, with a goal of unifying and growing the sub-regional insurance market
Our Board of Directors consists of distinguished and eminently qualified persons from key sectors of the economy.
Regency Alliance Insurance Plc is a publicly quoted company and listed on the Nigerian Stock Exchange market.
THE COMPANY
INCORPORATION:  16th June 1993 (RC223946)
LICENSING:              3rd March 1994
AUTHORIZED SHARE CAPITAL: N6billion
CLASS OF BUSINESS:   General Insurance Business
Our Mission
To create wealth for all stakeholders and mitigate risks associated with it.
Our Core Values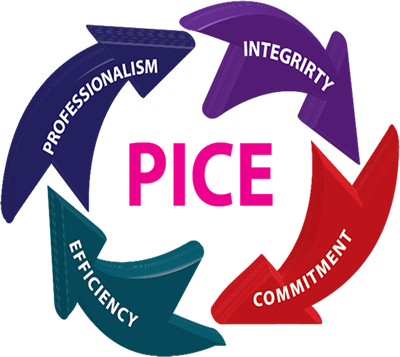 PROFESSIONALISM
As a company, we believe in professionalism at all times. To us, being professional means being an expert and behaving in an ethical way. A high level of professionalism is expected when working with our customers and we always put their needs first. We are dedicated and committed to maintaining the highest standards of trustworthiness and reliability. We don't make excuses but focus on finding solutions.
INTEGRITY
Demonstrating Integrity means we do what is right, not what is easiest. We are true to ourselves and to our customers. We are transparent, honest and consistent in all we do. We take pride in our work and act with professionalism. At all times and in every situation.
COMMITMENT
Our commitment comes to life through being passionate about providing the highest level of customer satisfaction whilst mitigating risk. We are intensely focused on serving our customers and helping them achieve their goals. We do what we say we are going to do. As a company, we always create value.
EFFICIENCY
We believe in operational excellence and realize that there is always room for improvement in everything we do. This means that our work is never done. Embracing Efficiency leads us to challenge ourselves to execute flawlessly and to consistently deliver the highest quality of service to our customers. To enable efficiency, we seek the best talent and we promote personal and professional development.